Small coffee liquor of Noto
This liquor is characterized by its rich aroma of coffee and mellow taste. It is made by soaking coffee beans in sake for a long period of time. Coffee beans used for this liquor are from Nizami Coffee. Nizami Coffee roasts their own coffee beans within Suzu City and they blended their coffee beans especially for us to make this liquor, with a focus on Ethiopian beans. As we do not use any flavoring agent, you can enjoy the natural aroma and taste of coffee. This liquor is delicious on rock or hot. We also recommend drinking it with milk or pouring it on ice cream.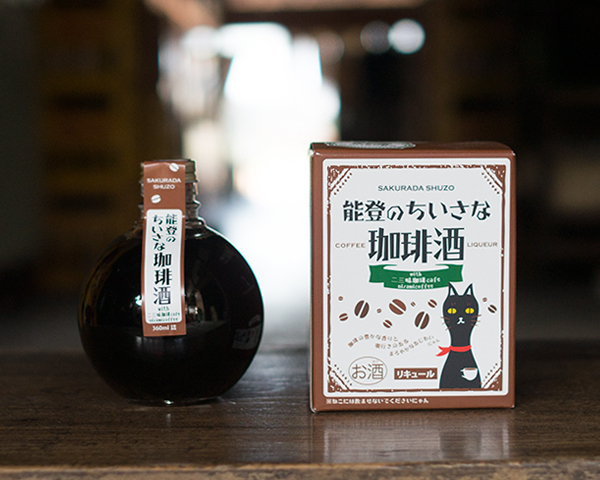 | | |
| --- | --- |
| RAW MATERIAL | Sake, coffee beans, White sugar |
| ALCOHOL | 16% |
| | |
| PRICE | 1,300 yen (360ml) |
---
Small chocolate liquor of Noto
You can enjoy slight bitterness and sweetness of chocolate with this liquor. We made numbers of trials before we managed to make this liquor with which you can enjoy the original aroma of chocolate. Due to its chocolate ingredients, it can solidify quite easily. Therefore, it is recommended to be enjoyed warm. We also recommend having it with milk or pouring it on ice cream. It is often selected as a gift for St. Valentine's Day.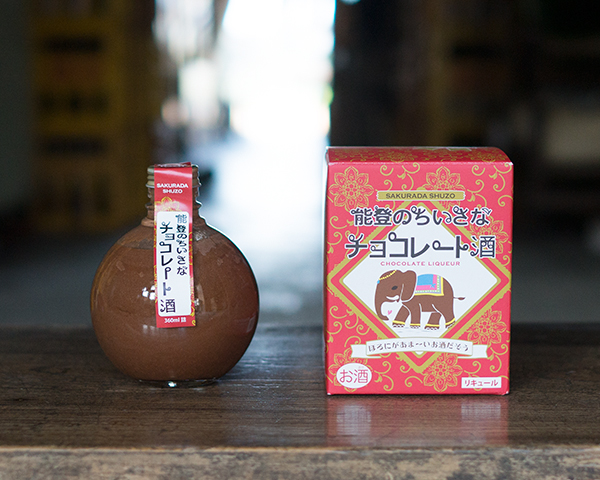 | | |
| --- | --- |
| RAW MATERIAL | Sake, chocolate, sugar, emulsifier |
| ALCOHOL | 15% |
| | |
| PRICE | 1,600 yen (360 ml) |
---
Small Umeshu of Noto (Japanese plum liquor)
This liquor has a mild taste and is characterized by the sweet-and-sour taste of "ume", Japanese plum. All of the plums we use are those made locally in Suzu city without the use of any agricultural chemicals. The liquor is made by soaking the plums into sake for a long period of time. In summer, you can keep it cold and enjoy it straight or on the rocks. In winter, try adding hot water and enjoy it at your preferred strength. We also recommend using it in cooking, for example adding it to Kakiage, a mixture of seasonal vegetables fried in batter, or putting a small amount in dressing to give it a subtle flavor.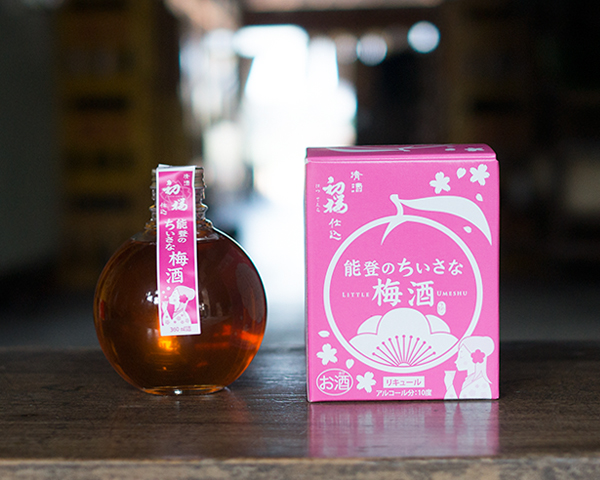 | | |
| --- | --- |
| RAW MATERIAL | Sake, plum, Rock sugar |
| ALCOHOL | 10% |
| | |
| PRICE | 1,100 yen (360 ml) |